This is going to be one of the few articles, perhaps the only one, that features photographs from someone other than myself. Don't get too excited, though. This isn't exactly the article in which most photographers would want to be included. I have been very disappointed with much of what I've seen from my supposed colleagues over the past year and this article is my attempt to guide all of us toward a better quality, better presentation, and better regard for our work.
From the outset, let me be very clear in saying I understand not everyone is going to produce the same quality of photograph. Some are still learning, and there is definitely a lot to learn. Experience counts for a lot, to be sure, and I don't expect someone who has been carrying around a camera for only a year or two to demonstrate the same quality in their photographs as one who has been doing so for ten years or more. There is a continual learning curve here that keeps us all on our toes.
However, I do strongly feel that photographers need to be more judicious in deciding which of their photographs should be made public. Just because one snaps the shutter doesn't mean that the result is suitable for public viewing. Quite the opposite. Truth be told, a very small percentage, definitely less than ten percent, of the photographs we take are genuinely appropriate for public consumption. For some, that number is even lower.
The internet has fostered the mistaken sense that one can just dump the whole card full of pictures directly on Facebook or Picasa or Tumblr or Flickr and that everyone will be amazed at one's work. Wrong. Instead, what you are doing is diluting the quality of our entire profession. When people continually see so-called "professionals" displaying inferior images, they begin to think that such trash is normal. If what they see on Flickr is an example of professional photography, then hey, certainly anyone  else can do just as well.
So, in the spirit of improving the quality of our photographs and how our profession is perceived, I present to you my list of ten types of pictures that should never be seen, anywhere, in 2012.
1. No More Demon Children (or adults, for that matter)
There is absolutely no reason for this photo, or any like it, to ever be on the Internet. There's no reason for this photo to even be on your hard drive. Delete it. Now. Red eye is not cute. Red eye is not funny. Red eye is bad, lazy, ignorant photography. A good photographer knows how to avoid red eye; it's really not that difficult. For the learning-impaired, cameras come equipped with settings to avoid red-eye.
The basic reason for red eye, without getting into all the science of how eyes respond to light, is because the photographer pops a flash when the subject's eyes are adjusted to low light. Shame on you for blinding those people! Your options for avoiding red eye are as follows:
TURN ON MORE LIGHT! (One would think this option makes sense, but apparently not)
Bounce the flash off a light-colored ceiling or wall
If you're really a photographer, get your flash OFF THE CAMERA and place it away from the optical axis.
Use the red-eye prevention setting on your camera
Don't use flash at all
The world would be a much better place if it never, ever has to endure another red-eyed photograph.
2. Learn To Crop
There are times when what one captures within the frame is more than one really needs. Digital sensors are wider than normal 35mm film and often, in order to get the full height of a subject, one ends of up material that is not pertinent or related to the subject.
GET RID OF IT!
There is absolutely no reason for the picture above to have ever left the photographer's computer in this condition. Granted, the image is poorly composed to begin with, but that's another topic all together. Every photo editing software provides some mechanism for cropping. Learn to crop so that we do not continue to be subjected to things such as backdrop stands or kitchen chairs or your pet cat wandering through the background of pictures. Good images do not distract the viewer from the primary subject.
3. Learn what Depth of Field Really Means
No, Gaussian blur is not a substitute for good depth of field. What's scary is that, more than once this past year, I've had to explain to so-called "professional" photographers exactly what depth of field means. Depth of field is the amount of distance between the nearest and farthest objects that are acceptably in focus. A shallow depth of field is what causes background elements to appear blurred, which the subject if the foreground is nice and sharp. Depth of field is determined on your camera by adjusting the aperture, or f-stop.
There is absolutely no excuse, ever, for a photograph like this one. We can only hope that the people involved returned safely from whatever parallel universe in which they were captured.
4. Eliminate Backlight
Backlight is probably the most frequent example of the camera not seeing the same thing your eyes see. Backlight occurs when the amount of light behind a figure is greater than the amount of light in front of them. As a result, the front of the figure, you know, the part we actually want to see, is in shadow, under exposed, making the image unusable. In most cases, using a flash eliminates this problem. However, a photographer has to be intelligent and talented enough to use the flash correctly, or else a whole plethora of other problems can occur.
The more professional approach, however, is to tighten the aperture and adjust the shutter speed. This allows the background to stay in focus rather than "flaring out" while bringing more light to the subject in the foreground. Balanced light makes for an infinitely better picture. The concept is not difficult. A little practice and the method will become second nature to you.
So, why do these pictures keep showing up in photographer's portfolios?  Under exposing an image happens. So, throw it away! Don't upload it to your portfolio or Facebook!
5. Add Water Guns to the Over-used Prop List
No, they're not real guns, they don't even come close to looking like real guns and, ultimately, they demonstrate just how void of imagination and creativity the photographer is to even let them in the picture! Every year there's some prop that gets over used and this year it has been the water gun. I saw at least a hundred "Charlie's Angels" recreations with water guns, not to mention several hundred more that were horribly posed in provocative positions. Some mindless twit even handed one to Giselle Bundchen!
Of course, the only reason this trend ever caught on is because of the adolescent fantasy of seeing girls get wet. A little blatant sexism, anyone?
Props should enhance a picture, make it more believable, add depth and substance. A model standing on a beach needs a surf board. A model posed with a young child might hold an appropriately-titled book. Let a model hold a tattoo gun in one hand with the bare arm of a friend in the other. While we've seen all those shots countless times before, they still work because the props make sense. The only time water guns make sense is when you're five.
Put them away.
6. Put An End To Orange Skin
The orange aliens have invaded! Grab your children and head for the hills! Run! Hide! They're everywhere! That's what I feel like screaming when I look at a lot of portfolios, especially those in the glamour category that are filled with well-tanned, bikini-clad (or less) models. They're ORANGE! How did that happen?
One of the big adjustments in moving from film to digital cameras is that photographers had to learn about this thing called white balance. While it has always existed, digital sensors are much more sensitive to the temperature of light (which has absolutely nothing to do with how warm or cold the air may be). If the light is cool, it will cast a blue hue. When it is warm, an amber tint takes over. All DSLR cameras give the photographer the ability to make adjustments to the white balance so as to avoid extremes in either direction.
So, why aren't those controls being used? Orange is no one's natural skin color! Okay, if someone has spent too much time in the tanning bed they may be a little orange, but even then there are easy ways to avoid having a portfolio full of  giant Oompa Loompas! Start adjusting your white balance and, when that is not enough, learn how to color correct in post! Let's return to more natural looking people!
7. Eliminate Bad Spot Color
I cannot think of a single instance this past year where I saw a use of sport color that didn't make me want to scream. Not one. Most had me not only wanting to scream, but rip out handfuls of hair and kick puppies across the floor. Not only is this one of the most over-used elements in photography, it is also the one that is most misused. I do think I could go all year without seeing another photograph using spot color and be just fine. Spot color is not cool. Spot color is not artistic. Spot color is amateurish and unnecessary.
Once upon a time, the use of spot color was a tool of professionals. A photographer would take a picture shot on black and white film and then carefully, painstakingly, paint in color where it was wanted. They understood that the color needed to be subtle, not over-saturated, and it needed to have a purpose. Spot color was not something to be used randomly or capriciously. A perfect example occurs in the Steven Spielberg movie "Schindler's List" where a carefully colored pink coat becomes a motif for brutality against innocence. The effect, properly applied, is powerful.
Digital techniques have put the ability to create spot color in the hands of imbeciles, however. Amateur photographers mask in spot color at full or even enhanced saturation with absolutely no regard for tonal blend, continuity, or even neatness. Such sloppiness demands that we all simply stop using the technique all together in the hopes that, perhaps, one day, we can ease back into its proper and appropriate use.
8. No More Bad Wedding Collages!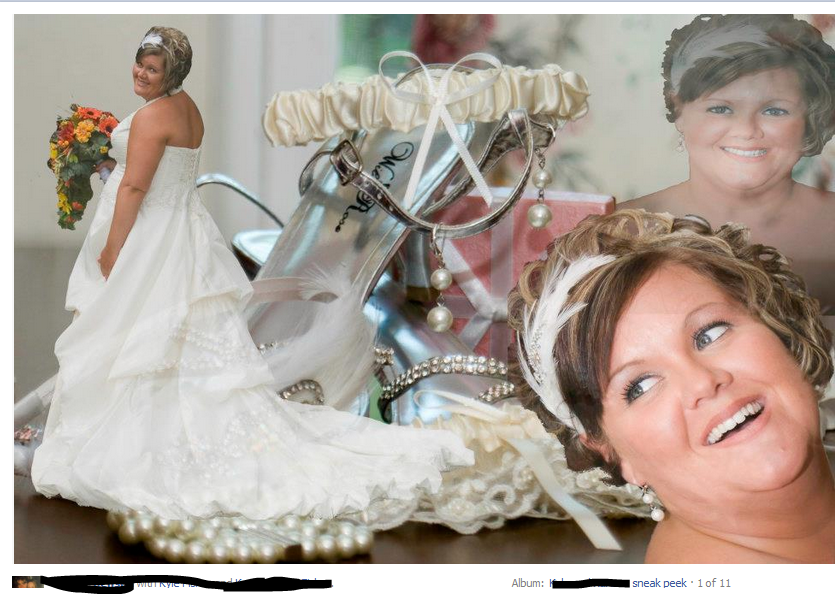 What is it about weddings that seem to spawn bad photography? Perhaps it's because brides on a budget tend to look at cost rather than quality and end up with amateurs who think they'll impress their clients with really cheesy techniques. If spot color is at the top of that list, the horrible wedding collage has to come in a very close second. What's frightening is that these so-called photographers will actually put pictures like this in their portfolio and on their web sites as though they've done something amazing! I fail to see how these people stay in business! Oh yeah, they'll shoot your wedding for $300.
Photo collages can be very wonderful and full of meaning when executed correctly. "Correctly" would be the most important word in that sentence. Creating a collage requires not only professional level layout and design skills, but killer masking talent. Unfortunately, the majority of fauxtographers possess neither. One doesn't just select a group of random pictures and slap them together. Without careful thought and planning, a collage quickly becomes a visual disaster, which is most often exactly what happens.
I'm not totally against collages, I've just seen way too many bad ones this past year. Please, take a design class or something!
9. Stop Putting Babies Where They Don't Belong
Anne Geddes is perhaps the best known of all baby photographers.  She takes extreme care with her baby pictures and creates works of art that are timeless and stunning.
You are not Anne Geddes. Stop trying to copy her.  I know photographing sleeping infants is a challenge. For that matter, trying to take pictures of most any infant under three months old is a challenge because about all they can do is lie there and look at you and poop. Yet, that creative challenge is no reason to try and turn them into mer children, or flowers, or insects, or holiday ornaments. These pictures are not cute. These pictures are not artistic. In some cases, these pictures border on abuse.
Yes, it is acceptable to allow Anne Geddes' work to be inspiring. However, should you feel so moved, take a careful look at her images and learn how she achieves such stunning images. Pay attention to her light, her framing, her careful choices. Don't just steal her concepts and then recreate them in a slip-shod manner. Remember, these children are going to grow up. Take bad pictures and one day they may return for revenge.
10. End Cheesy Packaged Photo Edits
The software is cheap, if not free, and that makes it appealing for people who don't have the skill, nor the cash, for Photoshop. They have names such as Pixiz, Photofunia, Bloggif, and Loonapix. They provide templates and filters with the promise that you, too, can create cool photos. Some of them even have apps for your cell phone.
Stay the fuck away. Not only do these companies encourage bad editing and design, they fail to tell you that, no matter how hard you try, your pictures will never look like the samples because the samples were not created with their software!! Frames and overlays and drawing filters are as sure a sign of a bad photographer as if one were wearing a sign around their neck. Being a professional photographer means developing your own finishing skills, exercising your own creativity, not copying what others have done or mindlessly generating the same styled photo over and over and over into infinite nauseousness.
One should also be careful to read the end user license agreement with some of the low-end editing packages. In some cases, photographers who merge their photos with licensed images are giving up the right to that photo! One can be quite sure that the Disney corporation is not going to let you make money using any of their characters without them getting a piece of the action somewhere along the line!  Work with your own material, your own concepts, your own designs and you will ultimately be the better for it.